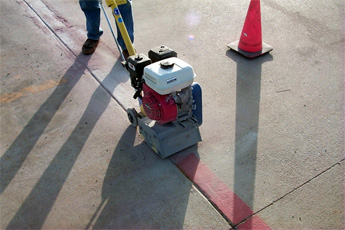 Are you thinking about renovating your parking space and need line removal services? No matter what industry you're in, your business' location and parking lot experience are key to retain your clients. No one wants to waste time circling around a parking lot, so you must secure a clean, well-designed parking space at all times.
V&V Line Striping is an established parking lot contractor with over 31 years of experience. We offer complete services at affordable prices, including parking lot line removal and renovation services in New Jersey. When working with our skilled and professional team, it's very easy to remove lines from your parking lot and start the renovation process without any disruption.
The Importance of Parking Lot Striping
A clearly striped crosswalk will be hard to miss, thereby minimizing the chance of collisions and properly directing drivers and pedestrians. This includes bright line striping for stalls, arrows for entrances, exits, and directional flow, handicap parking spaces, clearly marked fire lane areas, and much more.
However, if you don't invest in parking lot maintenance, the striping will fade away due to wear and tear, causing the parking lot to look worn. In that case, parking lot line removal services in New Jersey are needed to begin a renovation process. This is typically performed by professional line striping contractors who use high-quality materials and equipment.
Why Choosing V&V Line Striping
V&V Line Striping is available 7 days a week, around the clock, to ensure our customer's satisfaction and peace of mind. We pride ourselves on having the best products and machinery. For this reason, we only utilize premium products like VOC Compliant Sherwin Williams Traffic Paint (DOT Approved) and offer top-notch service; parking lot line removal, line stropping, handicapped parking, sign installations, etc.
Hire The Best Parking Lot Line Removal Experts You Need
No matter how big or small the job is, V&V Line Striping is here to help. We have the latest equipment and the best team of technicians to help you get the job done. We specialize in commercial properties and complete a wide variety of asphalt paving jobs, including parking lot line removal and renovation in Hibernia, New Jersey.
Remember, by ensuring a clean and secure space, you'll boost your business sales and always impress your customers from the very first time. If you're interested in our services, contact our customer service department and get a free estimate today.
[vfb id=1]